Posted on

September 20, 2016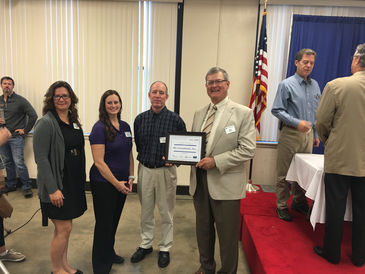 A strong commitment to our local communities is a source of pride here at BG Consultants. Both firm-wide and as individuals, we make it a point to give back to the place in which we live, work, and play in, through donating time and/or resources to local organizations and community activities. This month,  BG Consultants was recognized as September's Hutchinson / Reno County Chamber of Commerce Small Business of the Month.
The Chamber's Small Business Council strives to make the community more aware of the role small businesses have on the local economy with the monthly Small Business Award. To be considered for the award, a business must be a member of the Chamber of Commerce, have been in business for at least three years, and employ fewer than 40 individuals.
BG Consultants has had a presence in Hutchinson for over 35 years, and the office has been managed by engineer Sid Arpin for over 31. Local projects include the Avenue A Park, Main Street streetscape reconstruction, Jim P. Martinez Sunflower Trail Extension, and civil bond improvements at various primary schools in the area. We look forward to serving greater Reno County for many years to come.
For more information, see the article posted in The Hutchinson News here.
---