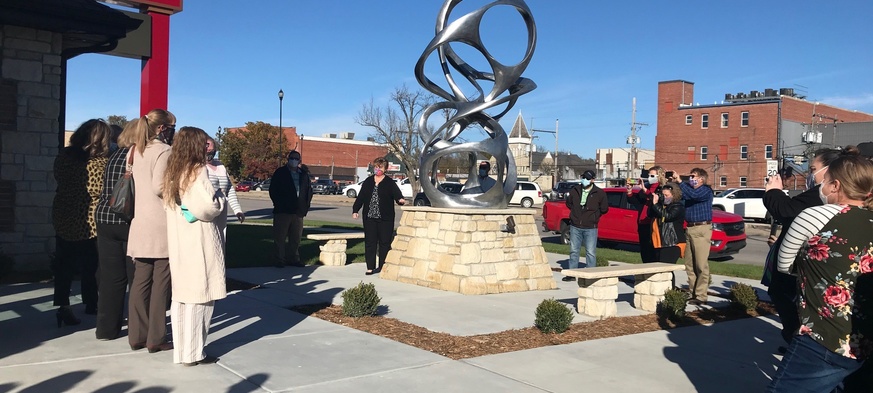 Posted on

October 30, 2020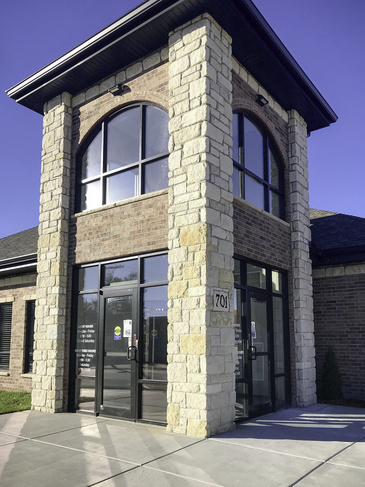 The Community National Bank and Trust Branch in Emporia hosted their official ribbon cutting event Thursday. Tours of their new space were available as well as door prizes provided by Sweet Granada and treats were provided by Gourmet-to-Go Catering. The ceremony included remarks by Jeanine McKenna with the Emporia Chamber of Commerce, as well as the Carla Barnett, Emporia Community National Bank and Trust President among other bank executives. You can view the whole ceremony on the Emporia Chamber of Commerce site here.
A sculpture "Perpetual Motion", which is in front of the new building was also dedicated by the creator, Jacob Burmood.  Jacob is a Kansas City based artist who was commissioned with assistance of Emporia Main Street and an anonymous donor to create an art piece for the downtown business district. The sculpture name was chosen from a call to the community for suggestions for the stunning piece of art.
BG Consultants, Inc. provided professional services for this new addition to the Emporia downtown including Architectural, Engineering, Survey and Construction Administration Services.  Engineer Bruce Boettcher, our Emporia Office Manager and Principal in Charge for the bank project, attended the ribbon cutting and is pleased to see this project completed and the bank serving members of the Emporia community. Project Manager/Architect Clint Hibbs and Lead Architectural Designer Ekaterina Barybina, while unable to attend the event, are proud of the completed facility and the benefit the downtown business district will see with its presence.  
The new bank in Emporia was designed and built to bring history, art, and the community together. The newly constructed 5,600 sq ft building is located within a historic neighborhood district. It's materials and palette reflect and respect the surrounding neighborhood. BG, the owner, and the City of Emporia worked closely to establish this building as part of the greater community both as a resource and as part of Emporia's growing art scene. Part of this project included the installation of a beautiful eye-catching sculpture featured prominently on site as a gift to the greater community. The building interior features nine private offices, a large teller and lobby area, and the various staff supporting spaces kept on the grade floor to maximize space use.
Community National Bank and Trust is excited to be able to continue to provide the community with quality banking services from their new location, which is replacing a temporary structure they have been working from of this year.
---