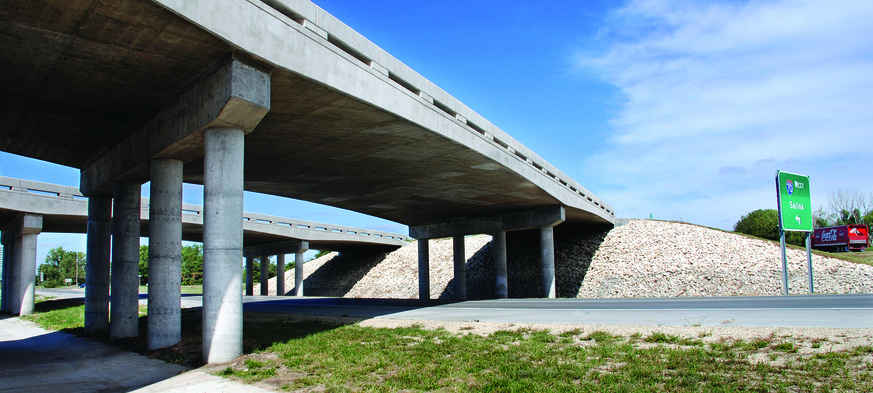 Bridges are essential to any transportation system, but they are more than simple means of passage. They connect communities and people, enable commercial and agricultural growth, impact the environment, and, in some cases, reflect the scenic, historic, and cultural characteristics of a community.
The bridge design team at BG Consultants has delivered solutions for hundreds of bridges across Kansas. We know effective design requires proficient structural knowledge and an understanding of the surrounding environment. Our structural recommendations are responsive to span length, waterway opening, hydraulics, and all other site-specific concerns. We are accustomed to working with KDOT and other agencies to secure public, government, and environmental satisfaction with all aspects of the project. 
While our solutions are grounded in years of experience, we have consistently been at the forefront of innovative bridge design in Kansas. Our bridge team leader has been nationally recognized for his progressive bridge research projects. We developed the first crash-worthy bridge rail for Fiber Reinforced Polymer (FRP) bridge decks. Our team also developed an economical structural system for an Automated Small Vehicle Transit System (ASVT) that can be used on a university campus or congested city plaza. In the state, we were the first to utilize polymer overlays for repairing and resurfacing concrete decks, and first to incorporate inverted T pre-stressed beams in the construction of a continuous bridge.
Innovation, experience, and commitment — we have what it takes to deliver quality and cost-effective bridge designs.
Bridge Engineering Services
Preliminary and final design of pre-stressed concrete bridges, post-tensioned concrete bridges, steel bridges, and box culvert bridges
FRP bridge repair and strengthening
Design of pedestrian bridges
Bridge deck evaluation
Emergency structural repair
Rehabilitation of historical bridges
Stone and timber retrofit bridges
Retrofit design of bridges
Chloride content testing on bridge decks
Polymer concrete overlays
Deck replacement
Scour analysis and countermeasure design
Constructability assessments
Routine bridge inspections
Annual bridge inspections
Fracture critical inspections
Research and testing
---