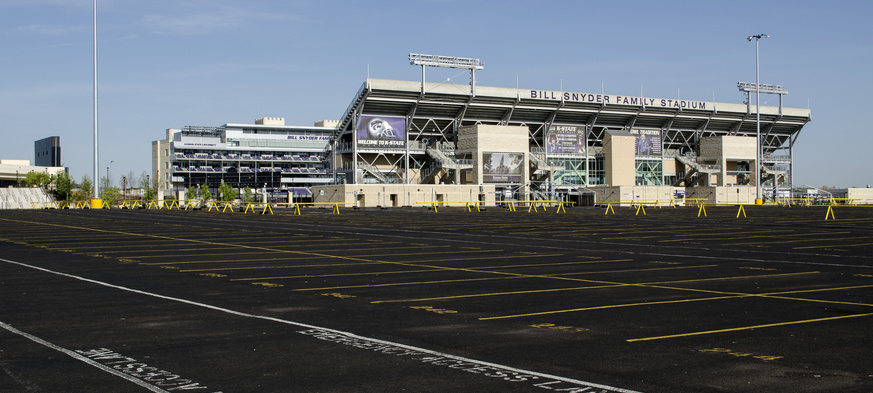 In today's transportation-driven world, first impressions of a city or business are not formed when a person walks in your door, but when they park their vehicle. Well-designed parking lots — with ample space, good traffic circulation, stormwater management, ADA accessibility, and smooth surfaces — can help ensure that the first experience with your facility is a positive one.
The engineers at BG Consultants have decades of experience designing new parking lots and rehabilitating existing ones for public and private clients. We'll help you through new challenges for sustainable design as environmental concerns and regulations grow, and maintain the ecological systems around your parking areas. No matter the project, our mission is to optimize traffic circulation, maximize capacity, minimize your expenses, and help you create good first impressions.
Parking Lot Services
Patching: To repair cracks or potholes in asphalt parking lots, a cold patch with aggregate is installed at singular locations. For concrete parking lots, patching involves sawing out the portions in poor condition, repairing the subgrade in that area, and repouring with new concrete.
 
Seal Coating: Used primarily for well-maintained asphalt parking lots, this liquid asphalt emulsion treatment provides a thin layer of protection to shield moisture and minimize erosion.
 
Slurry Seal: A minor asphalt resurfacing treatment, this economical option uses a cold mix of aggregate and asphalt emulsion and helps replace small cracks in the existing surface.
 
Mill & Overlay: When a parking lot has experienced surface deterioration but no subgrade failure, milling (or removing) the top layer of asphalt and overlaying new asphalt up to the previously existing elevation is a viable option.  
 
Remove & Replace: If the parking lot subgrade has deteriorated beyond repair, this project involves removing the entire parking lot structure and replacing it with new asphalt or concrete.
 
New Construction: Where no parking lot currently exists, we provide engineering services to develop the best solutions for your needs.
---